What Is a Milking Table?
A milking table is much like a traditional massage table, except it has been customized for the comfort and pleasure of a man — no more wiggling and shifting to avoid crushing your most delicate parts. It makes for the utimate erotic massage experience.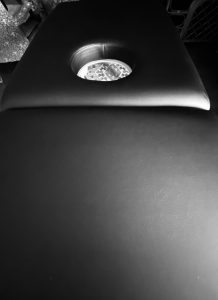 What will she do to me? Because you are unrestrained while lying on the table – your "bits and pieces" to fall freely under you, uncrushed, loose and free! The blood flow is increased via gravity, to your manly bits which permits more sensitivity and availability to grow. Amazing? Yes, it is. This is the ultimate pleasure for a man when I have maximum accessibility to every inch of you as you lay prone and perhaps a bit vulnerable to my curious fingers. You've never felt this aroused and sensitised, ever.
Why should you choose a massage from me on a milking table? I'm very soft and sensual and my touch is divine. You'll be ever so sensitive to my touch in all the right places all over your entire body while you're face down relaxing, falling into a trance.
Comfort, relaxation, and pleasure of course. The design of a milking table allows for blood to flow more freely to your nether regions with the natural assistance of gravity. Along with this increase in blood flow comes more sensitivity — and who wouldn't want that? Additionally, my erotic massage table is designed to give me maximum accessibility to your entire body while you are face down, thereby allowing you to experience erotic sensations you never felt before. Best experienced with an erotic edging massage…
Relax on the Edge
My Favorite
Don't know what to choose?
The Edge
The Art of Edging (Tease and Denial until Intense Release)
Do you love a good tease? I know I do. Forget the world and fall into an erotic trance for an hour — or 2 — filled with pleasure and ecstasy on my custom erotic massage milking table. I'll take you to the edge and back, over and over and over… Think you've experienced edging before? It was nothing like this. I love watching you squirm in delirious bliss.
The Twisted Edge (Include some kink experiences with your milking table massage – Every loves something whether it is scratchy, flogging, CBT)
Would you like to try a bit of kink perhaps? I'll secure you to the table with leather restraints and ever so gently tease and caress you, everywhere! I'll use sensory deprivation techniques to relax you and bring you gently, expertly into my world. So delicious! So hot!
If you prefer no restraints nor blindfold, so be it. It's all about you and your comfort, baby. I'm going to relax you into a state of sublime bliss.