Byron Bay is known for its laid-back lifestyle, beautiful beaches, and vibrant community of artists and creatives. But did you know that this coastal town also has a thriving BDSM scene? Whether you're a seasoned kinkster or just curious about exploring your fantasies, Byron Bay has a lot to offer.
Community and Events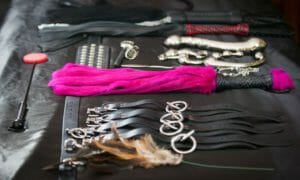 Byron Bay has a close-knit BDSM community, with a variety of events and groups catering to different interests and levels of experience. The Byron Bay Kinksters is a local group that organizes social events, workshops, and play parties for the BDSM community. They also offer a mentorship program for newbies who want to learn the ropes (pun intended).
For those looking for more specific experiences, there are also specialized events and groups. The Club Kinx hosts regular fetish parties and play events, while the Byron Bay Rope Dojo offers classes and workshops on shibari and other forms of rope bondage.
Safety and Consent
As with any BDSM scene, safety and consent are paramount in Byron Bay. All participants are expected to follow the principles of safe, sane, and consensual play, which means that all activities must be safe, mentally sound, and agreed upon by all parties. Communication is key, and partners are encouraged to discuss their boundaries, preferences, and expectations before engaging in any BDSM activities.
Practices and Activities
BDSM practices and activities are diverse and can range from mild to extreme. Some common activities include bondage, impact play (such as spanking or flogging), sensation play (such as wax play or sensory deprivation), and dominance and submission dynamics.
If you're new to BDSM, it's important to start slow and explore at your own pace. Many events and workshops in Byron Bay are designed for beginners, with experienced practitioners providing guidance and education.
Benefits of BDSM
BDSM has been shown to have numerous physical and psychological benefits. Research has found that engaging in BDSM can lead to increased intimacy and communication between partners, as well as greater trust and empathy. It can also provide an opportunity for personal growth and exploration, as well as stress relief and a sense of community.
Bondassage in Byron Bay
Come and experience from a professional skilled practitioner, Bondassage or Elysium.
Conclusion
Whether you're a seasoned BDSM practitioner or just curious about exploring your kinks, Byron Bay has a lot to offer. With a thriving community, a variety of events and workshops, and a focus on safety and consent, this coastal town is a great place to explore your fantasies and connect with like-minded individuals.
References:
Moser C, Kleinplatz PJ. Introduction: the state of our knowledge on BDSM. J Homosex. 2006;50(2-3):1-5.
Wismeijer AA, van Assen MA. Psychological characteristics of BDSM practitioners. J Sex Res. 2013;50(2):157-69.
Sagarin BJ, Cutler B, Cutler N, Lawler-Sagarin KA, Matuszewich L. Hormonal changes and couple bonding in consensual sadomasochistic activity. Arch Sex Behav. 2009;38(2):186-200.
Breslow N, Evans L, Langley J, Halgin R. On the prevalence and roles of females in the sadomasochistic subculture: report of an empirical study. Arch Sex Behav. 1985;14(4):303-17.
Henkin Y, Chevret-Measson M, Bonnet A, Jouve E, Waintrater R, Chabert P, Le Breton D, Lemaire A. Sexual and relationship satisfaction among heterosexual men and women: the importance of desired frequency of sex.